Browsing articles in "Corporate AVP"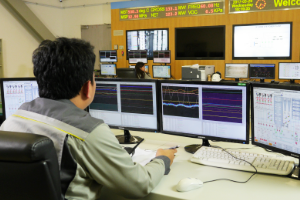 We recently concluded shooting a corporate video for the South Luzon Thermal Energy Corporation Coal fired power plant in Calaca, Batangas. This project was quite unique, because it was the first time that we went to a power plant the day before in order to begin shooting as early as possible! The client's facility was one of the new generation of coal-fired plants, and was EXTREMELY clean – very different what we imagine when we think of coal-fired plants. From what we had seen, it is clear that coal is an economical means to provide baseload power for the Philippine's power requirements!
Not too long ago, our team produced a series of videos for the Partners for Resilience – a Norway-based organization made up of 5 major NGOs. This video was the first of the series, and had an Indonesian version with an excellent voiceover c/o old friend Setiawan, who not only facilitated the recording but also did some last minute checking of the script to make sure that the language was right. This was quite interesting to us, because we had always thought (quite wrongly) that Indonesian was a very simple language, but it is apparently a rich language with many nuances!
This video is typical of the translations done by Q2 – not just a voiceover, but script and graphics as well.
Recent Posts
Archives
Categories