Browsing articles in "Training"
One of our oldest clients commissioned this video for an exhibit/installation. It is actually part of a series of four videos, with the final version being in Chinese. The big challenge facing our client is that Tuna is not a traditional Chinese food, so these videos were designed to provide basic information about Tuna and encourage the Chinese consumer to try it. Certainly a very challenging mission, but also very rewarding!
In November of 2017, Q2 Digital Studio were hired by Coke Philippines to shoot a video for a training program they will be conducting in the Kuwait POLO office (Philippine Overseas Labor Office). The seminar was conducted over 5 days, and had 100 participants. This video is a short 30-second version that provides a synopsis of the activities during the training sessions.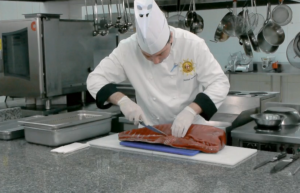 A long-time client called us recently and asked us to produce that will introduce Tuna to the China market. I remembered that I actually made a similar video for the same client about 4 years ago – and the lady calling me had no idea because this was long before she had been working for the company! At that time, our client was introducing Tuna to the Chinese market, but was facing a problem because Tuna was never a part of the Chinese diet. This video was part of their campaign to educate the market about Tuna and even included a short tutorial on how to prepare a simple but tasty Tuna dish! Today, our client's exports of Tuna to China are in the billions.
In 2013, one of our clients was making a push to market tuna in China and open up a new market for their fresh tuna products. The opportunity was big, but equally large was the problem that tuna was never a part of the Chinese diet. They asked us to produce this video as some sort of orientation to tell Chinese people all about Tuna, and even features a German chef in the middle giving a short lesson on a tasty but easy-to-prepare tuna meal!
Like many of Q2's video projects, this video was produced in English and Chinese, with Chinese being the main language in BOTH voiceover and graphics.
This video also shows original footage shot in 5 countries – American Samoa, China, Marshall Islands, Philippines, and Pohnpei. These footage were shot over a period of many years, and if this video were to be done today, even the archival Japanese photos used in the video will be original footage.
Our client asked us to produce a tutorial video that showed how longline fishing was done. We shot this video in American Samoa but used some footage from a previous shoot in the Marshall islands. This video is in English, but the final version is in Chinese (with Chinese graphics and subtitles), and is being used in a Chinese university as a training tool.
Mini Stop commissioned Q2 Digital Studio to shoot a series of training videos to help their crew learn the protocol of how to operate and maintain their appliances. We shot our this corporate video in Pasig, at their training centre.
If you are looking for a similar corporate video output, you can read more about our company. We would love to discuss with you the details of your corporate video project, so please don't hesitate to give us a call.