Browsing articles from "August, 2017"
Here is the final Mr and Mrs Quickie video we produced recently together with the Mr Quickie marketing team. Like many of the projects done by Q2 Digital Studio, this was done with minimal crew and shot in only one day (about 16 hours). This was quite a challenge since we had to shoot in four locations and had to factor in travel time (& traffic) into the schedule. Big thanks to everyone who helped make it happen!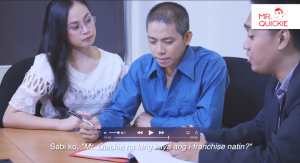 The Crew of Q2 Digital Studio:
Direction/Script : Randy Quimpo
Cameraworks: Drix Garchitorena
Light and Sound: Rico Roque.
Production Mgt: Kathy Mendoza
Hair & Makeup: Christine Serran
Featuring Sandino Buan and Genieper Miranda
as Mr & Mrs Quickie! Thank you Dyno & Genie
for the excellent performances!