Browsing articles from "May, 2017"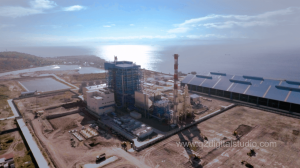 We recently concluded a location shoot at Coal-fired power plant in Sarangan Province. We have been shooting this power plant for the past few years ever since construction began, and this time we were showing the part of the site where the plant's second building is being built, doubling its capacity to over 200 MW.
While this plant is built beside the sea, it is probably the only one in the world that sources (and disposes) cooling water from an inland river through a pipeline several kilometers long. This is to avoid polluting the sea beside it which is actually a well-known dive site, and plant engineers said that at one time a whale shark was spotted checking out the jetty!